CURRICULUM
Lectures, practice, experiential learning and group discussion in the topics below. Transform your practice with one-on-one attention from highly trained and experienced teachers and mentors. Apprenticeship and teaching opportunities are available to Thrive training graduates.

Techniques
Asana: Learn the physical and energetic qualities of postures and how to apply them in teaching students of all different physical abilities and experiences. Learn to teach to the "whole" student. Deepen your practice by deepening your understanding of the structure of the asana as it "lands" in your body.
Pranayama: Learn and practice pranayama techniques and how to weave pranayama through an asana class. Love to breathe!
Meditation: Introduction to several styles of meditation. Learn how a meditation practice is key to being more conscious.
Pratayahara: Learn techniques in managing a highly stimulating world.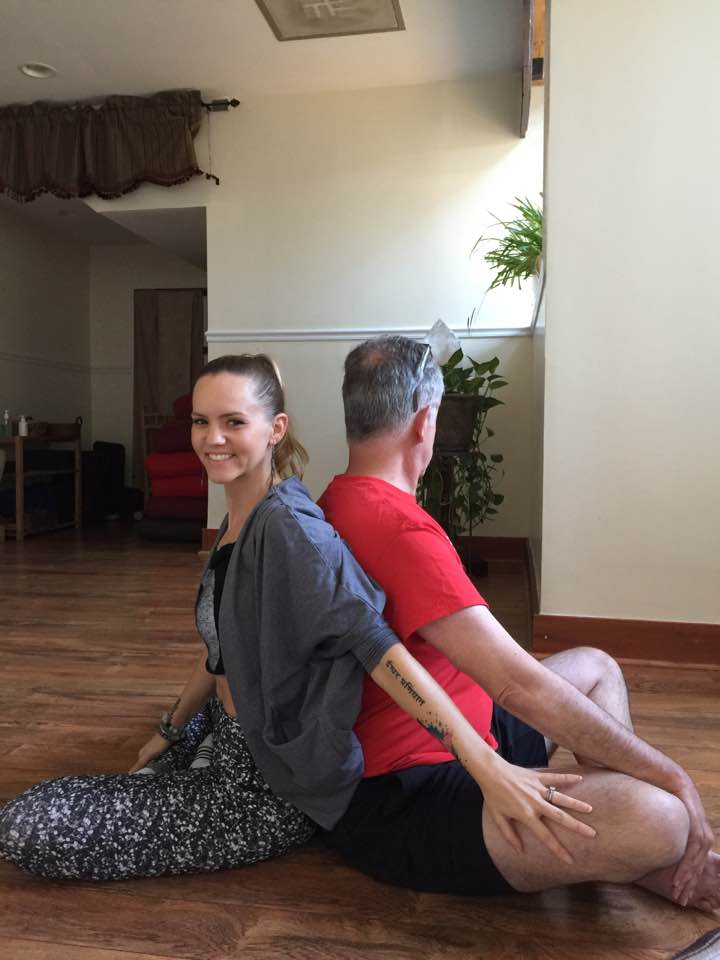 Teaching Methodology

Train in tested methods of teaching yoga and how to sequence hatha and vinyasa yoga,pranayama and meditation. You will be prepared to teach several styles of yoga. Most trainees resonate with one or two styles. Your mentor will guide you to the best matched career path or yoga journey.
Teaching Specialties
Vinyasa Yoga
Hatha Yoga
Restorative Yoga
Prenatal Yoga
Hot Yoga
Beginners Yoga
Practice Teaching

Thrive Yoga's training is specially designed for you to graduate as an experienced yoga teacher. Gain experience teaching poses and sequences that are interesting and effective.

Practice Teaching course study includes:
Class Observations
Demonstration and Mirroring
Practice Teaching to Peers and Novices
Teaching Prep Poses
Teaching to Beginners
Cueing & Assisting
Mentor feedback and written assessments
Anatomy & Physiology

Training in the anatomy and physiology of the human body and movement. Learn to recognize biomechanics, structure and fluid movement in yourself and your students.

Philosophy & Specialty Lectures
The History of Yoga and Lineages-Learn the history of yoga and the philosophy behind the styles practiced in the world.
Yoga Sutra Study-Yoga philosophy as studied by the ancients and modern interpretation and application in life today.
The Science and Mystery of Yoga-Learn where fact and science meet philosophy and experience. Lear the how weave yoga into your life.
The Brain on Yoga. Learn the latest research on consciousness and techniques to train the brain for the life you desire.
Introduction to Ayurveda
Energetic Body-How is the human body energy? Chakras and vibrational body.
Chakra Yoga
Chanting and fun and unique Yoga Techniques rarely taught.
Thrive 200-Hour Teacher Trainings
Weekend Format
SEPT 2018 - JUN 2019
Sept 15-16| Oct 20-21| Nov 17-18| Dec 8-9| Jan 19-20| Feb 16-17| Mar 16-17| April 6-7; 27-28| May 4-5; 18-19| Jun 1-2; 8-9
Saturday and Sunday | 11:00am-5:30pm
MAR - DEC 2019
Mar 30-31| Apr 27-28| May 11| Jun 15 | Jun 22-23| Jul 13-14| Jul 27-28| Aug 17-18| Sept 7-8 | Oct 5-6| Oct 19-20| Nov 2-3| Nov 16-17| Dec 7-8
Saturday and Sunday | 11:00am-5:30pm
Trainees with schedule conflicts will be able to make-up missed lectures in one of the future Thrive 200-hour trainings at no cost or by attending another program with an equivalent curriculum. Other make-ups can be scheduled for a fee.
Kudos
"I teach yoga in a poetic way! The Training at Thrive has helped me in many aspects of my journey in this world. It was an out of the box experience for me as a new immigrant."Amir "Changed my life!" JF "I miss being able to ask a thousand questions...I miss the constant stretching of my brain!" Christina "The Teacher Training is a bunch of people hugging you for who you are" Zeynap "I had no idea how I would transform and grow." Viv "Transformational" Shelly "I am a different person" Nicky "I did my 300-hour in California after my 200 at Thrive and was astonished at how much the Thrive 200-hour training taught me. I was the most knowledgeable yogi in the group". Jess "The trainers are extraordinary and the people in my training are like family." Diana
Why apply for the Teacher Training at Thrive?
There is no better way to laugh out loud and become more alive than the Thrive Yoga Teacher Training.
Walk our Talk.
This training is great for you if you are looking to deepen your practice or become a confident and knowledgeable yoga teacher. Thrive Teachers are from Thrive Trainings. Take our classes and experience yoga with our teachers.
Committed to your Growth. The Thrive Yoga Trainers encourage trainees to see their potential as a yogi and as a calm and vital human being. You will deepen your practice and transform your life.
Proven.

Thrive training programs
were first introduced
10 years ago and have graduated nearly 350 unique teachers and inquisitive yoga students.
Experience.
Our faculty is a
TEAM of seasoned yoga instructors
and lecturers with broad experience in their fields. Our Trainers are RYT-500 Accredited Yoga Trainers.
Modern Yogic Wisdom. We evolve and improve the training based on new research and innovations in yoga and in the field of wellness.
Leadership & Legacy. Susan Mondi Bowen is Thrive's Training Director and Studio Owner. Thrive Yoga has been thriving for more than 14 years. Susan has been practicing yoga and leading a healthy lifestyle for more than 30 years.
JOIN THE FUN | SIGN-UP FOR OUR MAILING LIST