September 2017- February 2018
(10) Saturdays and Sundays | 9:00AM-5:00PM + (18)Thursday Evenings | 6:00-9:00PM




Saturdays and Sundays

: Sept 16-17| Oct 7-8 and 28-29| Nov 11-12| Dec 16-17| Jan 6-7 and 27-28|Feb 3-4 and 10-11| Mar 3-4



Thursdays:

Sept 7, 14, 28 |Oct 5, 12, 19, 26| Nov 2, 9, 16, 30| Dec 7, 14| Jan 11 and 25 |Feb 8 and 22| Mar 1


Trainees with schedule conflicts will be able to make-up missed lectures during the NEXT Thrive 300-hour training at no cost or by attending another program with an equivalent curriculum. Other make-ups can be scheduled for a fee. We will support you in making up missed lectures via a flexible make-up policy.
Email schedule conflict questions to
susan@thriveyoga.com



200 DC area yoga teachers have graduated from Thrive Trainings
"You (Susan Mondi) have a special gift for teaching! You are able to convey the process and rationale for pose positioning with an energetic calmness." Deb

"Thrive is a wonderful place to learn.There is a genuine effort to make the learning experience both relevant and relatable. Thrive offers many kinds of yoga and welcomes many kids of teachers. But mostly, Susan Mondi is both supportive and uplifting. Her endless reading recommendations are fantastic. I only wish that I could do it all again." Mara

"I've learned that the practice doesn't always have to be asana. I think this is what has changed most in my life- learning how much the other 7 limbs of yoga create the whole." Christine

"The 300-Hour Training is rich and deep. Each time our group met, we learned so much about teaching yoga, our own journey and how to connect to each other." Ally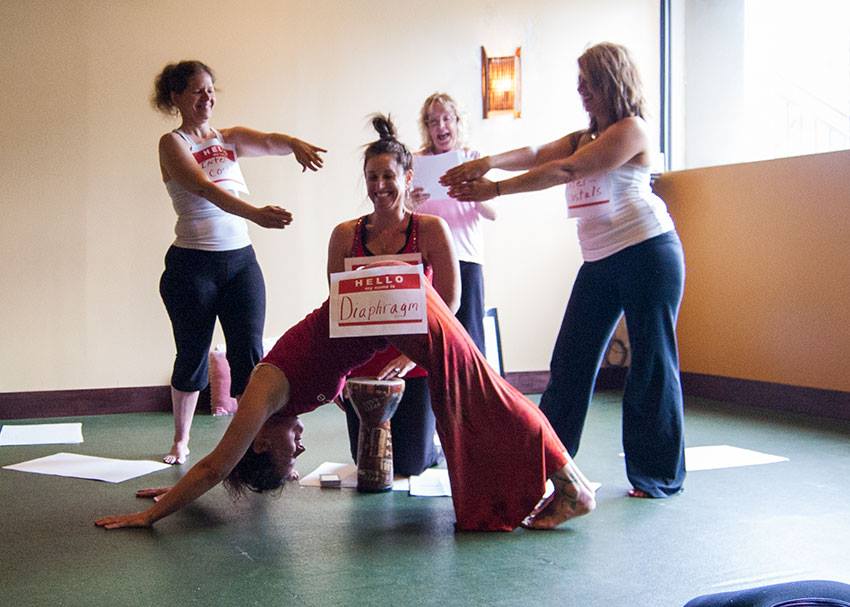 What 300 Hour Teacher Trainees Need To Know
The Thrive 300 Hour Teacher is for students who have already completed a 200-hour Teacher Training and seek a 500 Hour Yoga Teacher Certification or yoga students who are interested in an advanced study of yoga. This training is designed and taught so that you personally excel as a yoga teacher. There are hundreds of certified yoga teachers, it is our intention to help you hone your skills and learn depth in teaching so that you are extraordinary and fulfilled in your career. The Thrive 300-hour training is highly experiential explores both yoga teaching techniques and practices for deeper human consciousness. Expect transformation.
Program Details
The Thrive 300-Hour Training balances old world understanding of yoga with the explosion and expansion of what yoga is today. The training at Thrive blends the technicalities of teaching yoga with training other healing modalities that we have seen move people to freedom, health and happiness.
The Thrive 300-Hour Training also includes Reiki 1&2 Certification and Thai Yoga Massage Level 1 Certification.
The Teacher Training Program focuses on teaching and assisting skills for Hatha and Vinyasa Yoga. Students can apply for the Thrive 300-hour training after completing a valid 200-hour certification from any style of yoga school.
In -class study: (10) Weekends (Sat/Sun 9:00am-5:00pm) and Thursday evenings (6:00-9:00pm)
Apprenticeship and In-Class Assisting (45 hours) at Thrive Yoga scheduled according to each trainee's availability
Apprenticeship in Individual Student Instruction (Privates. 5 hrs). (3) Privates with mentor and feedback
Project: 60 hours of Independent Study
Observations: (3) observations of workshops/classes
CURRICULUM

Professional Teaching Skills
Refresh and deepen your own yoga practice and teaching
Therapeutic application of yoga to heal the whole self
Learn to teach advanced poses, preparatory poses and sequences
Learn to seamlessly weave philosophy and the energetic qualities of practice with asana
Techniques to teach to the individual student in a group class
Yoga Anatomy and Physiology
Learn to integrate the 8 limbs of yoga with asana sequences.
Learn to teach advanced Pranayama, Meditation, Chanting, Mudra
Lab and practice in the art of cueing and weaving pranayama with asana
Practice and study in: Yoga Nidra, Restorative Yoga, Prenatal Yoga, Yin, Aerial Yoga
Learn to create workshops including developing themes, timing and formats, lectures and asana
Advanced topics in sequencing
Practice techniques for proficiency in private yoga sessions
Full course in Hands-on Adjustments for more than 50 yoga poses
Thai Yoga Massage Certification Level 1
Reiki Certification Level 1 & 2
The New Navigation Course-The Integration of the research and experiential understanding of the Conscious and Subconscious Mind; Human Biology; Quantum Physics; the practices of the 8- Limbs of Yoga. Think: Science and Spirituality meets real world living with success and vitality.
Apprenticeship
Formal Apprenticeship at Thrive Yoga
Teaching Assessments and Mentorship
Practice teaching via demonstration, correction and feedback
Practice hands-on adjustments.
Bring your teaching experiences into the classroom. Try new sequences, move beyond your comfort zone to become an amazing inspired teacher.
Learn how to evaluate individual students and create specialized yoga programs for Private Yoga Sessions (one-on-ones)
JOIN THE FUN | SIGN-UP FOR OUR MAILING LIST