What Students Need To Know About Trainings
Continuing Education Programs at Thrive are for yoga teachers and advanced students seeking to delve deeper into a yoga practice or become a master in an area of yoga. We select Continuing Education Programming based on new research on yoga and on cutting edge and fun yoga practices that have high interest to teachers and students alike.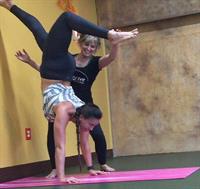 Fall 2017-Spring 2018 200-Hour Teacher Training and Yoga Immersion

with

Susan

Mondi
Sat, Sep 23, 2017 at 10:45 am - 5:30 pm
This training is great for you if you are looking to deepen your practice or become a confident and knowledgeable yoga teacher. Thrive 200 hour Training is a small group training (up to only 22 students) with one-on-one attention to the individual. The Thrive training curriculum is modern but rooted in the tradition of yoga. Thrive training programs were first introduced 9 years ago and have graduated over 300 unique teachers and inquisitive yoga students. Our faculty is several highly trained instructors from all over the country with broad experience in their fields. You will make connections and build friendships and mentors that last a lifetime. You will graduate prepared to teach yoga-- whether you journey to that path is your choice! Training is held from 10:45am-5:30pm on Saturdays and Sundays (unless otherwise noted) on the following dates: SEE TRAINING on the website for more details.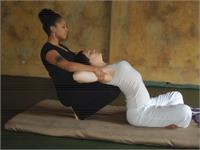 Thai Yoga Massage Training

with

Dana

Smith
Next held on Sat, Oct 7, 2017 at 9:00 am - 5:00 pm
This
enrollment
runs from Sat Oct 7, 2017 - Sun Oct 8, 2017
$599 | Continuing Education
Tuition $599 | Early Bird by October 1st $524
Level 1 Thai Yoga Massage Certification (credited through Spiritual Essence)
October 7 and 8
9:00 am - 5:00 pm, daily. (One hour lunch break and other breaks included)

Thai Yoga Massage (Nuad Pan Boran) is an ancient form of therapeutic healing. Born in the temples of Thailand, it has been around for over 2,500 years. It combines acupressure, energy/meridian balancing, stretching, and gentle yoga asanas (postures) in order to align the energies of the body for optimal health and wellness.
Thai Yoga Massage is based on a yoga tradition that vital energy (prana) flows through a series of channels in the human energy body. It is believed that stress and disease are caused by blockages in that energy flow and the aim of the bodywork is to release those blockages, restore equilibrium and harmony, and promote a return to good health.

This training is open to everyone – no prior bodywork or yoga experience is required. Our course is approved by the National Board for Therapeutic Massage & Bodywork (NBTMB) to offer 36 Continuing Education Credits (CECs).
In this course students will learn:
How to perform a fully balanced 1 ½ – 2-hour Thai Yoga Massage session
The history and principles of Thai Yoga Massage
The major Sen Lines massaged during a session
Gentle yoga stretches and meditation techniques to avoid burnout/injury
Modifications for clients with certain limitations and/or health concerns
Proper body alignment and how to work with different body types safely
The business of Thai Yoga Massage and state regulations
Certification Requirements:
Successful completion of all hours (5 of 10 practice hours done at Thrive Studio during training.)
Passing mark on written and practical exams
The tuition price includes a Spiritual Essence training manual and frameable certificate.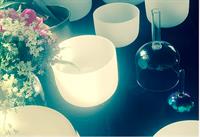 Sound Healing Training Level 1

with

Patricia

Norton
Next held on Sat, Nov 18, 2017 at 11:00 am - 6:00 pm
This
enrollment
runs from Sat Nov 18, 2017 - Sun Nov 19, 2017
Tuition $475 | Early Bird by November 1st $435
Sound can either raise one's personal energetic tonal quality or vibration, or deplete it, which can lead to imbalance or disease. Our energy informs and creates our reality. Sound Therapy creates a cellular massage, nourishing the nervous system and changing brain wave states, allowing us to release anything that may keep us from our full expression and luminosity.
In Sound Healing Level 1 training students will learn how to create and use sound as a self-empowering, disease preventative, stress- reducing tool. The course material is built upon both scientific research and spiritual wisdom traditions. Together we will explore the potency of the human voice, the most powerful tool we all have for self- healing. Participants will gain confidence in the use of the quartz crystal bowls and vocal toning which bring body, mind and spirit to a more harmonious experience of well-being and balance.
This Training is for musicians, singers and non- singers, yoga instructors, health care professionals, body workers, spiritual seekers, family and personal health enhancement. Prior experience not necessary.
"Release your souls yearning to express itself through Sound"
Included in training:
Review the history of sound, how Sound heals us and the research through a Power Point.
Learn personal vocal toning practices and create your personal mantra.
Learn Tom Kenyon's powerful method of vocal toning for mind, body, soul transformation.
Learn how to create playful, devotional & healing tones for self and others.
In depth hands on practice of playing of quartz crystal bowls and use of various mallets.
Creative applications of the bowls with a variety of hands-on demonstrations
Receive personal healings through deeply transformative training sessions
Upon completion of Sound Healing Level 1 training you will:
Be familiar with the basic knowledge of Sound, its History, How it heals us & Research
Create a Daily Vocal Toning practice, and your own personal mantra
Know how to create playful, devotional and healing tones for self and others
Demonstrate refined techniques for playing the quartz crystal bowls
Receive: 
Receive personal healings through deeply transformative training sessions
Manual filled with valuable information
Recommended books and CD's
Invitation to annual Sound students gathering at Ancient Oaks Homa Farm in Westminster, Maryland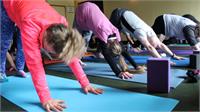 Is Yoga Real?

with

Caren Madsen

and Susan Mondi
Sat, Jan 27, 2018 at 2:00 pm - 5:00 pm
$99| Continuing education for Yoga Teachers & Inspired Students
Presentation of the latest research on the Benefits of Yoga. Yoga practice that incorporates the specific practices that are the most beneficial for health and well-being.
With Susan Mondi Bowen and Caren Madsen.
Learn the latest research on yoga-benefits that you already know from experience and some surprises!
Detailed lecture with notes and visuals on the latest research on yoga
Be inspired to re-commit to the practice that GIVES YOU life and keeps you healthy
Learn to distinguish between research facts and wise tale benefits of yoga
Become a health expert so that you can advise your students of the common conditions of high blood pressure, insomnia, stress and other ailments.
Learn how to cue and sequence your class so you can educate your students on the health benefits of yoga.
Have fun practicing the yoga, the love of your life and hear the beauty of how its really working (90 or 60 minute practice)
Training Counts towards 3 CEU's with Yoga Alliance
Caren Madsen
Caren Madsen is a semi-retired communications consultant and teaches yoga. She has been practicing yoga for 10 years and will complete certification for restorative yoga, hot core yoga and her 200-hour yoga teacher certification this fall at Thrive.Her fitness specialty is healthy aging. She is inspired by the beauty and power of yoga as a transformative experience. To that end, she is teaching "Yoga for Cops" to a group of officers from the Montgomery County Police Department. She enjoys sending police officers out to the streets of the community in a spirit of peace after yoga practice. Caren participated in the 2017 Pure Action Yoga Research Conference at the Harvard University Medical School recently. She will be presenting a summary of some of the latest scientific research on yoga at Thrive on January 27th.
JOIN THE FUN | SIGN-UP FOR OUR MAILING LIST