Angelina Halpin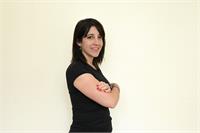 Describe yourself in three words: Misfit, Free-spirit, "Trailblazer"
Why do you teach Yoga? I teach yoga because I believe that it is the most honest path for self healing, awareness, and exploration. Each practice offers us an opportunity to observe, witness, and learn more about ourselves so that we can thrive closer to our full potential.
Something surprising about you: My self-symbol is a fire hydrant and I embarked on a journey with it through art and empirical research that began seven years ago.
What inspires you? Most recently, I have been inspired by the pattern of life/death/life, regeneration, evolution, and the way that centering/creating around a deep void has the power to bring fullness into life.
What's the scariest thing on your bucket list? Having a child/giving birth to an earthling.
Training/Certifications: 200-HR RYT from Yoga District in Washington, DC; Reiki I & II; currently pursuing 500-HR RYT at Thrive Yoga
Angelina is a Rockville, Maryland native with a diverse background of personal and educational studies. She studied Speech Therapy at the University of Maryland, minored in Fine Art at Montgomery College, and has completed some graduate work in Art Therapy at Naropa University in Boulder, CO. Angelina is a freelance artist who enjoys painting, drawing, mixed media collage, ceramics, and sculpture. She is working towards specializing in yoga nidra studies, along with art + yoga paired practices and workshops. Her classes aim to bring students into dormant aspects of self as a way to unlock unused potential and "gold" within the shadow.
Angelina Halpin instructs the following:
A well-rounded yoga class exploring postures (asanas); breathing exercises and energy balance (pranayama). Classes include training in: pose alignment; relaxation techniques; concentration, meditation. This practice will end with a Yoga Nidra meditation, becoming systematically and increasing aware of the inner world by following the guide of the instructor. Yoga Nidra has been shown to reduce tension, anxiety, and most of the symptoms associated with Post Traumatic Stress Disorder. The state of Nidra is often said to be equivalent to four times as much deep, restorative sleep.




Popular flowing style of yoga known for practicing deep breathing and increasing self-awareness and fitness. Students who like moving with breath to build heat, strength, and flexibility favor vinyasa yoga. Expect unique sequences and a wide range of music.

Sweat Factor: 7
Chill Factor: 5




$35 | Earlybird by February 26th $29

Yoga nidra and art-making are two practices that enhance communication between the conscious and subconscious mind, leading to higher levels of awareness. When our conscious mind is able to dialogue with deeper aspects of self, subconscious enlightenment has the potential to occur—leading to conscious integration. Achieving this clarity can be a fundamental turning point for manifesting our qualities of self into a cohesive, realistic whole.

During the nidra practice, our bodies are put to sleep while our mind maintains a one-pointed awareness. On the opposite end of the spectrum, during art-making our bodies are fully awake and actively functioning on a conscious level while our artistic process reveals the subconscious. After a 45 minute Yoga Nidra, students will spend an hour making mixed media art using an array of different materials including charcoal, pastels, markers, collage, and paint. We will explore the dichotomy between beauty and ugliness, transforming our perception through these practices.

The goal of this workshop is to bring students in to a space where they have the highest potential to review endeavors, learn from mistakes, settle disputes, make amends, master powerful emotions, and reverse unwanted habits. By specifically orienting focus towards an "ugly" aspect of self, feeling, and/or memory students can creatively release it, and transform it into something more beautiful.