Rikki Gritz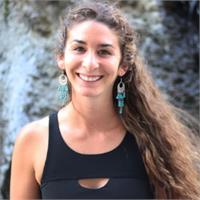 Describe yourself in three words: Nurturing, compassionate, courageous
Why do you teach Yoga? I want to be able to hold space for people to experience an honest, authentic, and raw version of themselves; as well as sharing my love, and passion for this practice.
What is something surprising about you? I once lived in Auroville. It's an experimental township in Southern India based on Human Unity. I studied yoga and sustainable living for a year.
What inspires you? students, ocean, family, adventures/traveling, yoga
What's the scariest thing on your bucket list? To live with wild animals
Where did you get your training/certifications?Completing my 200 hour at Thrive, Prenatal YTT with April Puciata
Rikki Gritz was first introduced to Iygenar yoga in Gunnison, Colorado in 2010 while attending college. She immediately fell in love with the practice, and, as a result, she bought a plane ticket to embark on a yoga journey to India. Since then she has dedicated herself to the study, practice and teaching of yoga. Rikki is known for her authentic, non-judgmental teaching style and her compassion-centered philosophy. Rikki recently completed a 200-hour teacher training at Thrive and an 15-hour prenatal training with April Puciata.
Rikki Gritz instructs the following:
Appropriate for any trimester with any level of experience in yoga, this class is designed to increase your energy and stamina while building strength, flexibility, and balance. Breath exercises and psotures will help reduce fatigue and tension while improving circulation and keep you comfortable and feeling fit throughout your pregnancy. Special Sequencing of postures, breath exercises and visualization are designed to aid you in labor. Connect with other moms-to-be in a supportive and healthy environment!

This specific class is drop-in only, and not part of a registered enrollment series.