Sarwat Saleem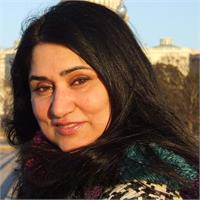 Describe yourself in three words: Joyful, compassionate, and grounded!
Why do you teach Yoga? Yoga is a path of self discovery - it has allowed me to discover who I am at the very core. Yoga reminds us to slow down and connect to our true selves in this often hectic world. It allows us to reflect and live a happy conscious life. I want to share my journey with you all, spread positively, and ultimately continue to grow as an individual.
Something surprising about you: Fashion is a huge passion of mine. From as long as I can remember, I've loved to design my own clothing!
What inspires you? I'm inspired by children. As a mother and Montessori teacher, children have always been a huge part of my life. They remind me of purity, innocence, joy, and to live freely.
What's the scariest thing on your bucket list? Unlike most people, I do not have a bucket list!
Training/Certifications: 200 YTT from Thrive 2016. Additionally, I've participated in various meditation workshops over the years that have provided me both knowledge and experience in my Yoga journey.
Sarwat Saleem instructs the following:
Research has proven that people who meditate are healthier. There are more than 100 benefits of meditation including:

-increased blood flow and lower blood pressure

-decreased anxiety

-improved immune system
Meditation is sometimes perceived as difficult. How can we stop when we move so fast ALL THE TIME. Meditation can be enjoyabe, however, with the right tools. Thrive meditation classes include:

-breathing exercises to de-stress and concentrate the mind

-visualization

-kriya (cleansing through directed awareness)

-mantra (chanting)

-emotional sweeping and self-awareness
No previous experience is necessary. Learn to calm down slowly. All Levels of students are welcomed.