Becki Portis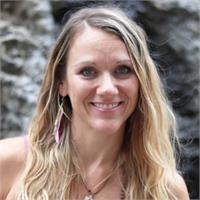 Describe yourself in three words:
passionate, funny, inquisitive
Why do you teach Yoga? I like to get a lot in a little and that is what yoga is...I feel my calling is to serve, encourage, and help others. Yoga resonates with everything in my being and I want to live it fully and share it with others. To teach, keeps me centered and connected with my heart and instills a responsibility and commitment to learn as much as I want to know personally. Yoga heals and builds from the inside out and I want to be as much a part of that as possible. It is fitness for the body, mind, and soul. That's a three-fer all in one!
Something surprising about you: This is a tough question b/c I am pretty open and a 'what you see is what you get' kind of gal.
Maybe something good to know is that I sometimes make up my own words.
What inspires you? Yoga, Susan Bowen, My Mom, my children, my sisters, family, music, people, vulnerability, love, nature and life itself. Life is a gift.
What's the scariest thing on your bucket list? Although I do not consider this scary, I can not wait to swim with dolphins and I hope to get to do this with my mom because it is her dream too. However, the scariest thing on my bucket list is to be an entrepreneur.
Training/Certifications: I will be completing my 200 hour YTT with Thrive in December (2016). I have been studying and practicing vigorously since I started my training in March. I also teach children's yoga and am Reiki I and II certified.
Becki is a fit single mother of three that has consciously and successfully worked at getting her body back into pre-baby and even stronger shape through routine yoga practice. She religiously practices breath work, meditation, and relaxation techniques that keeps her grounded, strong, sane and happy as she juggles the infinite demands of parenthood and her career. She approaches asana as a practice to surrender, embrace, savor, and strengthen the mind, body, and spirit. Her sense of humor and uplifting energy create a comfortable and welcoming space to explore body/mind consciousness as she leads through encouraging, clear direction.
Becki Portis instructs the following:
Popular flowing style of yoga known for practicing deep breathing and increasing self-awareness, as well as fitness. Students who like moving with their breath to build heat, strength, and flexibility will favor vinyasa yoga. Expect unique sequences and a wide range of music.

Sweat Factor: 10
Chill Factor: 3




Postnatal Yoga is designed to heal the body from the inside out, rebuild stability, strength, and muscle endurance.

After 9 month's of extreme change, it is important to approach a safe corrective core and pelvic floor conditioning practice. The abdominal muscles need time and care to return to their pre-pregnancy condition, so hitting 100 crunches a day in a bid for a flat tummy can potentially cause more damage. We will blend breath and relaxation techniques (that most definitely will be needed through the challenges of parenthood) with a gentle, safe, and effective physical practice for the postpartum body.

This class will offer a relaxed environment that welcomes pre-crawling babies. Bringing baby to class is not a pre-requisite to attend--this is simply a welcoming atmosphere for those that need it or are not ready to be away from baby. It is advised to get clearance from your Doctor before resuming physical exercise.