Katie Iciek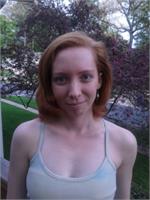 Describe yourself in three words: Passionate, resilient, brave.
Why do you teach Yoga? Because it's so much fun! I get to share my passion for yoga with anyone who walks in the door.
What's the scariest thing on your bucket list? To learn how to fly a plane.
What inspires you? Everyone I meet. I believe that every single person comes into your life for a reason. I am the person I am today because of the people I've met along the way.
Where did you get your training/certifications? Thrive 200 RYT
Katie Iciek came to yoga in 2013 as a runner looking for relief from physical tension. Originally drawn to the asana practice, Katie grew increasingly interested in meditation and the subtle body. She has been hooked ever since and completed her 200 hour teacher training at Thrive in 2015. Katie's classes include playful asana, dynamic pranayama, and deep meditation. She encourages students to explore each pose and make the practice uniquely theirs!

Katie Iciek instructs the following:
Appropriate for any trimester with any level of experience in yoga! This class is designed to increase your energy and stamina while building strength, flexibility, and balance. Breath exercises and postures will help reduce fatigue and tension, while improving circulation. This will keep you comfortable and feeling fit throughout your pregnancy. Special Sequencing of postures, breath exercises and visualization are designed to aid you in labor. Connect with other moms-to-be in a supportive and healthy environment!