Jessica Snow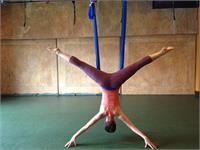 Describe yourself in three words: Dynamic, compassionate, ballsy.
Why do you teach Yoga? Nothing beats the feeling of an amazing yoga practice opening the body, mind, and spirit, to their full state of connection with all-being. To act as a guide for people to find that practice within themselves is the most amazing gift!
What inspires you? I am constantly and consistently inspired by the passionate, beautiful human beings around me in my community. I love to empower people around me to take the reins on bringing their passions into the world. Passion is one of the most powerful forces for change, and I will always be inspired by its depths.
Where did you get your training/certifications? I started my training in yoga at Charm City in Baltimore, MD. I deepened my understanding of the energetic arts with Berkley Springs, WV-based Somatic Energy Therapies, and took my 500-hour yoga therapy training with Inner Domain of Bethesda, MD. My aerial yoga certification is from Kaya Wellness and Yoga in Rehoboth Beach, DE, and I have taken advanced teaching immersions with Flow Yoga in Washington, DC. I continue to learn from clients and co-workers on a daily basis.
Jessica has completed over 500 hours of study in yoga therapy, with a background in Ayurveda. She is certified in VaihAyasa Aerial Yoga, and uses the support of aerial silks in private and group sessions to bring deeper alignment, and support on both emotional and physical levels. Jessica has been studying Polarity Therapy since 2010, and is finishing a three-year program that culminates in an international board certification. She has been studying herbalism, and wildcrafting medicines since early 2014.

Jessica Snow instructs the following:
Popular flowing style of yoga known for practicing deep breathing and increasing self-awareness and fitness. Students who like moving with breath to build heat, strength, and flexibility favor vinyasa yoga. Expect unique sequences and a wide range of music.

Sweat Factor: 7
Chill Factor: 5




Step off your mat and learn to fly! Aerial Yoga is a powerfully therapeutic practice that combines the strength and grace of traditional asana with the ease of gravity assisted stretching, all in the comfort of silks. Whether you are new to the mat, or looking to deepen your floor practice, aerial asana will strengthen the arms and core, while opening the hips and heart. Inversions have been called the fountain of youth, and they help to decompress the spine. The pressure of the fabric on the body helps to drain and circulate the lymph fluid, while opening the connective tissue.

We require that people new to the practice take at least one Aerial Yoga Level 1 introductory class as prerequisite to the drop-in in order to become used to the silks and specialty inversions. Class size is limited to 10 participants, so register early! At least 12 hours notice is required for cancellation of reservation without additional charge-- $20 non-refundable drop-in is charged for all absences and late cancellations.