Kevin Platt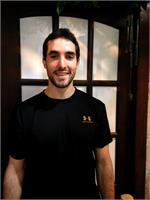 Describe yourself in three words: Playful, Caring, Grounding
Why do you teach Yoga? I teach yoga because it is my passion to spread love and connection. I try to open space in my classes for compassion, intuition gratitude and integration in each student and often feel gitty in doing so. Yoga has been a blessing to me and I would like to help offer that gift to the world.
Something surprising about you: I was diagnosed with a spinal infection when I was 19. The infection eroded parts of my Lumbar Vertebra in my back. I went through 4 months of healing and decided that I was going to teach yoga. I wanted to help people to mindfully move and love their bodies and furthermore, to intuitively self-heal. That was when my real "Yogic Path" began.
What inspires you? Community, The human body, vulnerability, intuition, travel, nature, the unique nature of each individual, animals ( including humans)...
What's the scariest thing on your bucket list? Highlining over canyons
Where did you get your training/certifications? Kripalu 200 Hour YTT July 2013
Kevin, 200RYT, offers classes that are soulful, energetic expressions of life and yoga. He allows space and intention for creative expression and development of your own yogic practice, while celebrating the connection we each bring as individuals into one community. His connection to intention and meditation is clear and allows each yogi to know themselves on a deeper level.
Kevin Platt is currently not instructing any classes.