Dorota Preysnar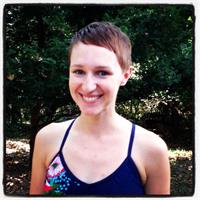 Describe yourself in three words: happy, passionate, spontaneous
Why do you teach Yoga? It's really fun, it inspires me, makes me happy and energized
What is something surprising about you? I'm pretty artistic and love to create things with paper
What inspires you? Being around people who are passionate about doing what they love
Training/Certifications: I got both my 200 and 500 hour certifications here at Thrive. I received my aerial yoga certification through Transcend Wellness and Yoga
Dorota likes to find creative ways of modifying poses to create movement and help her students find connection with their body and breath while creating awareness. She's enthusiastic, encouraging and even though her classes can be challenging, she strives to make them fun so everybody finds something that will suit them.
Dorota Preysnar instructs the following:
Step off your mat and learn to fly! Aerial Yoga is a powerfully therapeutic practice that combines the strength and grace of traditional asana with the ease of gravity assisted stretching, all in the comfort of silks. Whether you are new to the mat, or looking to deepen your floor practice, aerial asana will strengthen the arms and core while opening the hips and heart. Inversions have been called the fountain of youth, and they help to decompress the spine. The pressure of the fabric on the body helps to drain and circulate the lymph fluid, while opening the connective tissue.

We require that students new to the practice take at least one Aerial Yoga Level 1 introductory class as prerequisite to the drop-in, in order to become used to the silks and specialty inversions. Class size is limited to 10 participants, so register early! At least 12 hours notice is required for cancellation of reservation without additional charge-- $20 non-refundable drop-in is charged for all absences and late cancellations.




Appropriate for any trimester with any level of experience in yoga! This class is designed to increase your energy and stamina while building strength, flexibility, and balance. Breath exercises and postures will help reduce fatigue and tension, while improving circulation. This will keep you comfortable and feeling fit throughout your pregnancy. Special Sequencing of postures, breath exercises and visualization are designed to aid you in labor. Connect with other moms-to-be in a supportive and healthy environment!






Popular flowing style of yoga known for practicing deep breathing and increasing self-awareness, as well as fitness. Students who like moving with their breath to build heat, strength, and flexibility will favor vinyasa yoga. Expect unique sequences and a wide range of music.

Sweat Factor: 8
Chill Factor: 5




Practice flow yoga in a heated room to increase heart rate and sweating. The heated room helps open and stretch your tightest muscles. Expect unique sequences and chill time.




$79| Members get 20% discount

In this high energy class series, you will explore the freedom of flow, play, flips and tricks. During this 4-week series you will explore poses that will strengthen and open up your body all in a very playful way. We will slowly work on building the confidence towards some drops and flips. You will surprise yourself with what you can do in the aerial yoga hammock.

All levels of practitioners are welcomed in this class. Since the series will be progressing towards more complicated things over four weeks, no drop-ins will be allowed. Aerial Workshop: Level 1 is required prior to participation.

Due to limited spaces, NONREFUNDABLE PAYMENT is required in order to reserve space for the series. Aerial Yoga is not recommended for pregnant women, those who have recently had eye surgery, or those suffering from vertigo. If you are prone to motion sickness or are not used to having your head lower than your heart (like a forward bend), you could experience light headedness or dizziness. If over-the-counter medications like Dramamine are effective for your motion sickness, we recommend taking them before class. Consult your doctor before giving this class a try.