Ally Austin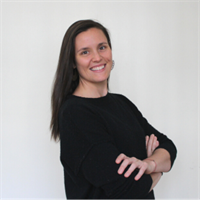 Describe yourself in three words: adventurous, student, lover
Why do you teach Yoga? To share with others the abundance yoga has given me. My mat is my HOME… I teach yoga because I have so much left to learn.
What inspires you? Humans! Nature! The BIG things… but especially the quiet moments.
What's the scariest thing on your bucket list? To live by myself.
Where did you get your training/certifications? 200 Hour (Thrive Yoga), Reiki I and II (Thrive Yoga), currently enrolled in 300 Hour at Thrive Yoga
At age 16, Ally found herself on a yoga mat in Frederick, Maryland alongside her stepmom who was pursuing her own yoga teaching career. She'll admit it: she giggled during her first om. Over a decade later she's taught on both the east and west coasts and practiced in several countries around the world. Yoga has profoundly impacted her life; she comes to her mat for fun, for guidance, and sometimes just for the quietness. In her classes you'll slow down so you can listen and connect with your body, with compassion, and with all that's around you. Connection is key; union is yoga.
Ally Austin instructs the following:
Yin Yoga explores postures of stillness for promoting growth, clearing energetic blockages, and enhancing circulation. Sequences will target connective tissue, specifically ligaments and tendons in the joints and spine. When lengthening these tissues and releasing energetic knots, we increase our range of motion. Muscles account for about 40% of the resistance against the body's flexibility, while connective tissue accounts for about 50%. Students will receive one-on-one attention for modifications and prop positioning. Great as a therapeutic practice.

* Unique

Sweat Factor: 0
Chill Factor: 8




A well-rounded yoga class exploring postures (asanas); breathing exercises and energy balance (pranayama). Classes include training in: pose alignment; relaxation techniques; concentration, meditation. Expect to improve your overall sense of well-being.

Sweat Factor: 6
Chill Factor: 7




$35 | Earlybird by February 25th $29

As the seasons change, so does your practice! We've left winter and the time for being slower, cooler, and more introspective. Now, as Spring sets in, everything is growing and heating up and your practice wants that, too but this doesn't just limit you to hot yoga – what about Yin?!

While Yin is slow, cool, and introspective, it has its place in all seasons and for all bodies. In this workshop, we'll explore Yin (and what that even means) in your body as Spring begins. There's no way to escape the Yang and our physical poses will reflect this. Expect more rigorous postures to clear the stagnation of Winter and to welcome space for the growth of Spring. Heat will be built in the body, and then we'll use our breath and compassionate thinking to "cool" the physical and mental sensations.

From this physical and mental clearing out of the clutter, you will have space to plant your seeds for Spring. We will set the intentions in the workshop and after our time together you will be able to continue your own Yin practice at home. Your seeds and intentions will fully bloom with constant watering and you will leave confident in your ability to do so.