Kristen Garaffo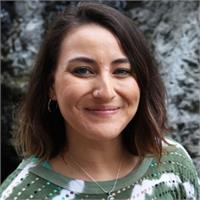 Describe yourself in three words: Fun, Sweet, Strong.
Why do you teach yoga? It is a precious opportunity to spread light. Our world needs it!
Something surprising about you: I'm adopted and was born in Asuncion, Paraguay!
What inspires you? Human potential. Living with Intention and seeing it in action in myself and in others. Transformation. Knowing it is always at our fingertips. Music. Art.
What is the scariest thing on your bucket list? Writing a one woman show. Performing my own words on stage. In front of people. As an actor, it is much easier for me to perform other people's words. But mine? Totally different story!
Where did you get your certifications? 200 hour Thrive Yoga! Quarter Life Calling with Coby Kozlowski, Kripalu Center for Yoga and Health. Karma Yoga Leadership Intensive - Coby Kozlowski, Nosara, Costa Rica
Kristen is passionate about living yoga and supporting others in finding their unique gifts and sharing them with the world. She shares her own unique gifts as a yoga teacher - blending music, storytelling, and her light-hearted spirit - in hopes of offering a relaxed, safe space for students to find ease in their minds and bodies.
Kristen Garaffo instructs the following:
A strong core is vital for a thriving yoga practice and also serves to reduce back pain. Creative core sequences work to support a strong back and abdomen. Core sequences prepare students for ease in yoga poses like triangle, arm balances, and backbends. Pairs well with Vinyasa at 6pm!

Sweat Factor: 6
Chill Factor: 3




Yoga Rookie is perfect for you if you are new to yoga, desire to learn the basics, or haven't practiced in a while and want to make the transition back to a regular practice. You will receive detailed instruction, demonstration, and hands-on assistance that will guide you through the fundamentals of building a strong practice.




Experience the more than 100 researched benefits of meditation including: lower blood pressure, decreased anxiety, and an improved immune system. By using breathing exercises, visualization, and mantra--learn to de-stress and meditate! All levels of experience are welcomed. Bring questions!




A well-rounded yoga class exploring postures (asanas), breathing exercises, and energy balance (pranayama). Classes include training in: pose alignment, relaxation techniques, concentration, and meditation. Expect to improve your overall sense of well-being.

Sweat Factor: 7

Chill Factor: 7