Jessica Apo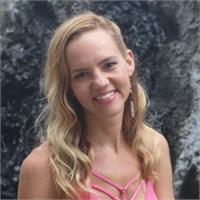 Describe yourself in three words: Outgoing, honest, caring.
Why do you teach Yoga? Teaching yoga allows me to move at a higher vibration. I enjoy seeing the transformation that takes place for my students not only on their mats, but in their everyday lives.
What is something surprising about you? I enjoy saying things for shock value!
What inspires you? Music, movement, and nature.
What's the scariest thing on your bucket list? It might seem silly, but to embrace the aging process.
Where did you get your training/certifications? 200 hour - Yoga Works, 300 hour ISHTA Yoga, E-RYT 500, RPYT
Jessica is a Prenatal Yoga Teacher and Thrive Teacher Trainer. Her classes include asana, pranayama and meditation where she encourages students to pay close attention to their experience feeling breath, body and energetic movement as a way to surrender to the moment. Her passion and enthusiasm for yoga will excite you and keep you coming back for more!
Jessica Apo instructs the following:
Appropriate for any trimester with any level of experience in yoga! This class is designed to increase your energy and stamina while building strength, flexibility, and balance. Breath exercises and postures will help reduce fatigue and tension, while improving circulation. This will keep you comfortable and feeling fit throughout your pregnancy. Special Sequencing of postures, breath exercises and visualization are designed to aid you in labor. Connect with other moms-to-be in a supportive and healthy environment!