Open Hatha with Yoga Nidra ($12)
This class is taught by: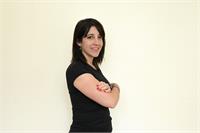 Describe yourself in three words: Misfit, Free-spirit, "Trailblazer"
Why do you teach Yoga? I teach yoga because I believe that it is the most honest path for self healing, awareness, and exploration. Each practice offers us an opportunity to observe, witness, and learn more about ourselves so that we can thrive closer to our full potential.
Something surprising about you: My self-symbol is a fire hydrant and I embarked on a journey with it through art and empirical research that began seven years ago.
What inspires you? Most recently, I have been inspired by the pattern of life/death/life, regeneration, evolution, and the way that centering/creating around a deep void has the power to bring fullness into life.
What's the scariest thing on your bucket list? Having a child/giving birth to an earthling.
Training/Certifications: 200-HR RYT from Yoga District in Washington, DC; Reiki I & II; currently pursuing 500-HR RYT at Thrive Yoga
Angelina is a Rockville, Maryland native with a diverse background of personal and educational studies. She studied Speech Therapy at the University of Maryland, minored in Fine Art at Montgomery College, and has completed some graduate work in Art Therapy at Naropa University in Boulder, CO. Angelina is a freelance artist who enjoys painting, drawing, mixed media collage, ceramics, and sculpture. She is working towards specializing in yoga nidra studies, along with art + yoga paired practices and workshops. Her classes aim to bring students into dormant aspects of self as a way to unlock unused potential and "gold" within the shadow.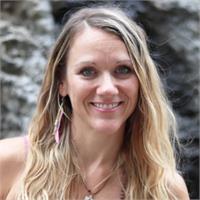 Describe yourself in three words:
passionate, funny, inquisitive
Why do you teach Yoga? I like to get a lot in a little and that is what yoga is...I feel my calling is to serve, encourage, and help others. Yoga resonates with everything in my being and I want to live it fully and share it with others. To teach, keeps me centered and connected with my heart and instills a responsibility and commitment to learn as much as I want to know personally. Yoga heals and builds from the inside out and I want to be as much a part of that as possible. It is fitness for the body, mind, and soul. That's a three-fer all in one!
Something surprising about you: This is a tough question b/c I am pretty open and a 'what you see is what you get' kind of gal.
Maybe something good to know is that I sometimes make up my own words.
What inspires you? Yoga, Susan Bowen, My Mom, my children, my sisters, family, music, people, vulnerability, love, nature and life itself. Life is a gift.
What's the scariest thing on your bucket list? Although I do not consider this scary, I can not wait to swim with dolphins and I hope to get to do this with my mom because it is her dream too. However, the scariest thing on my bucket list is to be an entrepreneur.
Training/Certifications: I will be completing my 200 hour YTT with Thrive in December (2016). I have been studying and practicing vigorously since I started my training in March. I also teach children's yoga and am Reiki I and II certified.
Becki is a fit single mother of three that has consciously and successfully worked at getting her body back into pre-baby and even stronger shape through routine yoga practice. She religiously practices breath work, meditation, and relaxation techniques that keeps her grounded, strong, sane and happy as she juggles the infinite demands of parenthood and her career. She approaches asana as a practice to surrender, embrace, savor, and strengthen the mind, body, and spirit. Her sense of humor and uplifting energy create a comfortable and welcoming space to explore body/mind consciousness as she leads through encouraging, clear direction.
30 minutes of Hatha Yoga and 30 Minutes of Yoga Nidra.
In Hatha Yoga explore postures (asanas); breathing exercises and energy balance (pranayama). Instruction includes pose alignment; relaxation techniques; concentration, meditation. Yoga Nidra practice will train you to become systematically and increasing aware of the inner world by following the guide of the instructor. Yoga Nidra has been shown to reduce tension, anxiety, and most of the symptoms associated with Post Traumatic Stress Disorder. The state of Nidra is often said to be equivalent to four times as much deep, restorative sleep.
Upcoming classes: