Open Studio ($12)
This class is taught by: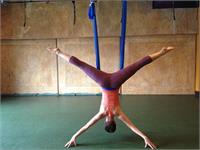 Describe yourself in three words: Dynamic, compassionate, ballsy.
Why do you teach Yoga? Nothing beats the feeling of an amazing yoga practice opening the body, mind, and spirit, to their full state of connection with all-being. To act as a guide for people to find that practice within themselves is the most amazing gift!
What inspires you? I am constantly and consistently inspired by the passionate, beautiful human beings around me in my community. I love to empower people around me to take the reins on bringing their passions into the world. Passion is one of the most powerful forces for change, and I will always be inspired by its depths.
Where did you get your training/certifications? I started my training in yoga at Charm City in Baltimore, MD. I deepened my understanding of the energetic arts with Berkley Springs, WV-based Somatic Energy Therapies, and took my 500-hour yoga therapy training with Inner Domain of Bethesda, MD. My aerial yoga certification is from Kaya Wellness and Yoga in Rehoboth Beach, DE, and I have taken advanced teaching immersions with Flow Yoga in Washington, DC. I continue to learn from clients and co-workers on a daily basis.
Jessica has completed over 500 hours of study in yoga therapy, with a background in Ayurveda. She is certified in VaihAyasa Aerial Yoga, and uses the support of aerial silks in private and group sessions to bring deeper alignment, and support on both emotional and physical levels. Jessica has been studying Polarity Therapy since 2010, and is finishing a three-year program that culminates in an international board certification. She has been studying herbalism, and wildcrafting medicines since early 2014.

Come play with your favorite teachers and members of the community! One of the Thrive teachers will be on hand to assist, or you can find your own space in which to flow. This intermediate-level power-hour can include everything from asana adjustments, acro yoga, aerials, and more. We are delighted to open our studio space for you to dig into the depths of your practice!
Upcoming classes:
Sign Up

Sun

Jun 25 4:00 pm - 5:15 pm

with

Jessica

Snow