Open Studio ($12)
This class is taught by: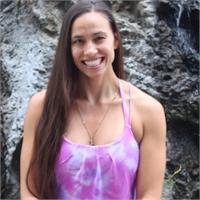 Describe yourself in three words: fiery, happy, passionate
Why do you teach Yoga? It only seems right. How could I keep this amazing gift all to myself?
Something surprising about you: I was a Hammer Thrower at the University of Maryland
What inspires you? Progress. It's not always a straight line: sometimes we even take a few steps backwards first. That's ok because there is never an end to yoga- it's a journey. There's always a next step, always a deeper variation- whether that's physical or just a change in perspective.
Where did you get your training/certifications? Thrive Yoga 200YTT
Jessie found her way to her mat after years of athletics. While she was initially drawn to the challenging asana practice, what she found was so much more than a sport replacement! Jessie loves a sweaty asana practice but equally enjoys a sweet meditation practice. Jessie looks forward to sharing her zest with others, while encouraging them to listen to their bodies and stay present.
Come play with your favorite teachers and members of the community! One of the Thrive teachers will be on hand to assist, or you can find your own space in which to flow. This intermediate-level power-hour can include everything from asana adjustments, acro yoga, aerials, and more. We are delighted to open our studio space for you to dig into the depths of your practice!
Upcoming classes:
Sign Up

Fri

Mar 03 7:30 pm - 9:00 pm

with

Jessie

Hill