Yoga Rookie: Beginners Progressive (ENROLLMENT)
This class is taught by: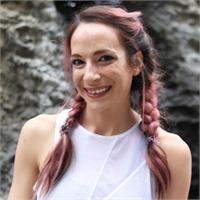 Describe yourself in three words:
Ether, Air, Fire
Why do you teach Yoga?: Yoga has helped give me what I like to call my "phoenix moment," rise from my ashes and overcome trauma; first feeling physically stronger, then mentally, then spiritually. As a teacher I want to help provide a space where others can reconnect with themselves and reclaim their bodies.
Something surprising about you: ...have you heard me laugh?
What inspires you?: I recently learned that a butterfly must struggle out of its cocoon in order for it to be able to fly. I think that is a beautiful reminder that sometimes in life we need to struggle in order to develop our ability to fly.
What's the scariest thing on your bucket list?: Scuba diving
Training/Certifications: 200 YTT from Thrive, Reiki Level 1&2, Currently enrolled in 300 YTT at Thrive,Thai Yoga Massage Level 1, Aerial Yoga Level 1 and 2
Traci uses yoga as a way to heal past traumas and reconnect with her true self. She integrates aspects of emotional and trauma sensitive yoga as she approaches each of her classes and also enjoys making connections to the different charkas and elements. Traci creates a loving and safe space for her students to discover just how strong they really are (inside and out!).
Calling Yoga Rookie graduates or students with some yoga experience: grow your yoga practice and learn new postures and sequences! Beginners Progressive is taught at a slow/moderate pace with detailed instruction on alignment and breathing. Venture into a more advanced pranayama and meditation practice by learning yoga tools and techniques that create fitness, calm and greater vitality. You will gain the confidence to join other yoga classes or feel free to continue in progressions as your regular practice.
Upcoming classes: