Yoga for Athletes
This class is taught by: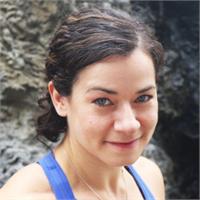 Describe yourself in three words: Radiant, Genuine, Strong
Why do you teach Yoga? Yoga makes me a better athlete and human being and that's the gift I want to share. Yoga brings much needed balance to my life. My practice has been a mirror, a comforter, a motivator, a guide, and so much more - always there to be whatever is necessary for each stage of my life.
Something surprising about you: In the not-so-distant past, I was super unhealthy, totally inactive and very overweight but I turned it all around. I quit smoking, ate real food, become an ultra-marathoner and triathlete, dropped 70 pounds, and gained a happy, healthy life in the process.
What inspires you? Courage, tenacity and authenticity in others.
What's the scariest thing on your bucket list? Hang-gliding
Training/Certifications: I completed my RYT200 Yoga Teacher Training at Thrive. I'm also an RRCA-Certified Running Coach, NASM-Certified Personal Trainer, Corrective Exercise Specialist and Women's Fitness Specialist. In January 2017, I'll complete my Yoga for Athletes advanced teaching immersion with Sage Rountree.
Alison believes in working with your body, not against it. Her approach to teaching is compassionate and grounding. She encourages students to explore and experience movement in new ways in order to build body awareness, confidence and just generally be more comfortable in their own skin. In her classes — as well as in her own practice — she uses asana, breath and meditation as a means to develop greater strength, mobility and endurance for the body, mind and spirit.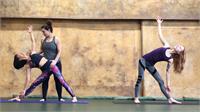 $75 | Members get 20% discount
$30 | Drop in Rate
YOGA FOR ATHLETES SERIES
In the past, many athletes have avoided yoga because they believed it to be too easy, too hard or simply not compatible with their training. But times are changing and more and more athletes are crediting yoga for improving their overall strength, efficiency and power.
This three-part series of workshops — which can be taken together or as separate workshops — is designed to help you discover how yoga can compliment your sports training and/or regular workouts. Expect to learn how yoga can benefit you at each stage of your training, boost your performance, reduce the chances of injury, and keep you mentally sharp and focused during competition.
Each workshop will include theory as well as practice and will each focus on three aspects of yoga for athletes: strength and conditioning during non-peak training, recovery during peak training, and injury prevention throughout your training.
PART 1 — Yoga for Athletes: Strength & Conditioning (February 4, 2018 from 1:00PM - 2:30PM)
Yoga offers us so many tools to boost our strength and conditioning during the non-peak times of the year. With careful awareness to the way we move, we can create stronger muscular engagement and coordination that will continue to benefit us long after the practice is over.
In this workshop, we'll cover how to use yoga in the pre-season or base building period of your training as a way to bolster your strength and conditioning. We'll also work with ways to use yoga as a pre-workout warm-up and a post-workout cool down.
PART 2 — Yoga for Athletes: Recovery (February 18, 2018 from 1:00PM - 2:30PM)
As much as we may want to, we can't go fast and hard all the time. The stress caused by training and tough workouts is designed to build us up but too much can tear us down instead. The practice of yoga provides a much-needed counter balance to the rigors of training — assuming we choose the right type of yoga.
In this workshop, we'll cover how yoga can be used to bolster recovery from training and hard workouts. Using a combination of yin and restorative poses to compliment the intensity of your physical workouts, we'll work to release unnecessary tension so that you can continue to train and avoid physical and mental burnout.
PART 3 — Yoga for Injury Prevention (February 25, 2018 from 1:00PM - 2:30PM)
Our lives are made up of repetitive movements — and this is especially true if you engage in sports or physical fitness activities. But you don't have to be an athlete to benefit from the process of exploring and recognizing where imbalances exist (top to bottom, front to back, and left to right) in your own unique body.
In this workshop, we'll discuss the essential functions of pivotal joints in the body and the difference between flexibility and mobility. The practice time will be focused on ways to keep the connective tissues in your body strong, mobile, and pliable so that you can establish and maintain optimal joint range of motion, stabilization, and function throughout your training and life.
Join ultra-marathoner, triathlete, movement specialist, coach, and Thrive Yoga teacher, Alison, and learn how yoga can compliment your training and improve your athletic performance.
No prior yoga experience is required. These workshops are suitable for all types of athletes at any level of experience — including those just getting started, weekend warriors, recreational and competitive athletes.
Upcoming classes: