Yoga for Athletes
This class is taught by: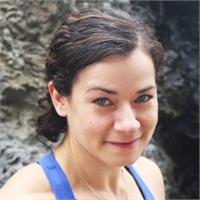 Describe yourself in three words: Radiant, Genuine, Strong
Why do you teach Yoga? Yoga makes me a better athlete and human being and that's the gift I want to share. Yoga brings much needed balance to my life. My practice has been a mirror, a comforter, a motivator, a guide, and so much more - always there to be whatever is necessary for each stage of my life.
Something surprising about you: In the not-so-distant past, I was super unhealthy, totally inactive and very overweight but I turned it all around. I quit smoking, ate real food, become an ultra-marathoner and triathlete, dropped 70 pounds, and gained a happy, healthy life in the process.
What inspires you? Courage, tenacity and authenticity in others.
What's the scariest thing on your bucket list? Hang-gliding
Training/Certifications: I completed my RYT200 Yoga Teacher Training at Thrive. I'm also an RRCA-Certified Running Coach, NASM-Certified Personal Trainer, Corrective Exercise Specialist and Women's Fitness Specialist. In January 2017, I'll complete my Yoga for Athletes advanced teaching immersion with Sage Rountree.
Alison believes in working with your body, not against it. Her approach to teaching is compassionate and grounding. She encourages students to explore and experience movement in new ways in order to build body awareness, confidence and just generally be more comfortable in their own skin. In her classes — as well as in her own practice — she uses asana, breath and meditation as a means to develop greater strength, mobility and endurance for the body, mind and spirit.
$79 | Members get 20% discount
In the past, many athletes have avoided yoga because they believed it to be too easy, too hard or simply not compatible with their training. But times are changing and more and more athletes are crediting yoga for improving their overall strength, efficiency and power.
The truth is that yoga's focus on the fundamentals of form, concentration and breath awareness are equally valuable and easily translatable to sports. In this 4-week series, we'll work with poses that:
increase joint range of motion and flexibility;
develop sport-specific core strength;
improve balance and stability;
lower the risk of overuse injuries; and
reduce recovery time.
You'll also learn breath and meditation exercises that cultivate mental toughness and mind-body integration to improve your physical and mental endurance.
Join ultra-marathoner, triathlete, coach and Thrive Yoga teacher, Alison, and learn how yoga can compliment your training and improve your athletic performance. This series is suitable for all types of athletes at any level of experience — including those just getting started, weekend warriors, recreational and competitive athletes. No prior yoga experience required.