Gentle and Therapeutic
This class is taught by: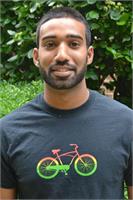 Describe yourself in three words:
Fiery, passionate, strong, easygoing, chill, calm, compassionate, empathetic
Why do you teach Yoga?
I've learned a lot from being a student, but I'm eager to learn so much more while teaching.
Something surprising about you:
I enjoy going out to eat at restaurants by myself lol
What inspires you?
Observing the change in other people's faces, body language and tone of voice when they speak about their passions. It's wonderful to witness and it inspires me to be true to myself.
What's the scariest thing on your bucket list?
Not too sure I even have a bucket list.. but if I had to choose, it would be to wrestle with a lion.
Training/Certifications:
I'm a Certified Strength and Conditioning Specialist through the NSCA. I'm currently finishing my 200-hour YTT through Thrive Yoga.
Peter first came to yoga as a way to stretch his body after sports and weight lifting, but quickly noticed his connection with yoga went much deeper than "just stretching". Peter uses yoga as a moving meditation to bring more awareness to his breath and his sense of self. He enjoys everything, from a hot and fiery class, to a deeply meditative and restorative class. Peter uses his physical therapy and personal training background to focus on integrating specific muscles which aid in alignment and stability in each posture. Peter believes yoga is for everyone, and creates a space for students to find what works best for their own bodies.
Practice Yoga techniques to gain vitality and healing in the body and soul. Perfect for the student who is seeking yoga:
-->· to heal an injury or transition from an injury to regular classes
-->· Therapeutically to gain mobility, strength and flexibility
-->· In a smaller class for one-one one attention to alignment
-->· cross-train by adding ease and stretch to their life
-->· exercise and calm in a gentle way
Class sequences will include yoga postures, stretching, breathing exercises and relaxation techniques. Expect to feel lighter more fit and to sleep better.