Aerial Yoga with Silk Hammocks
This class is taught by: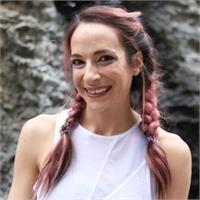 Describe yourself in three words:
Ether, Air, Fire
Why do you teach Yoga?: Yoga has helped give me what I like to call my "phoenix moment," rise from my ashes and overcome trauma; first feeling physically stronger, then mentally, then spiritually. As a teacher I want to help provide a space where others can reconnect with themselves and reclaim their bodies.
Something surprising about you: ...have you heard me laugh?
What inspires you?: I recently learned that a butterfly must struggle out of its cocoon in order for it to be able to fly. I think that is a beautiful reminder that sometimes in life we need to struggle in order to develop our ability to fly.
What's the scariest thing on your bucket list?: Scuba diving
Training/Certifications: 200 YTT from Thrive, Reiki Level 1&2, Currently enrolled in 300 YTT at Thrive,Thai Yoga Massage Level 1, Aerial Yoga Level 1 and 2
Traci uses yoga as a way to heal past traumas and reconnect with her true self. She integrates aspects of emotional and trauma sensitive yoga as she approaches each of her classes and also enjoys making connections to the different charkas and elements. Traci creates a loving and safe space for her students to discover just how strong they really are (inside and out!).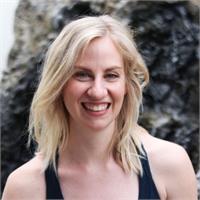 Describe yourself in three words:
Joyful, compassionate, driven
Why do you teach Yoga? Practicing yoga myself makes me feel alive...teaching yoga and watching parts inside my student awaken makes my whole world light up.
What inspires you? The children that I work with who have special needs.
What's the scariest thing on your bucket list? Heli-Skiing
Where did you get your training/certifications? I received my 200 hour training at Sol Yoga in Frederick, and my 300 hour training here at Thrive. In addition, I received my Aerial training with Vaihyasa Aerial Yoga and have a variety of certifications including but not limited to: Yoga for the Special Child, Mindful Yoga Therapy, and Childlight Yoga. I have additional certifications in Trauma Sensitive Care, crisis response, and education.
Bio: Christine enjoys teaching flow classes for beginners through advanced, leading her class from a healthy power sweat to restorative poses. Christine's classes incorporate body and mind exercise while focusing on alignment, strength, and breath– all to lead towards greater flexibility and strength both in yoga poses and in life. Christine strives to take her students to their emotional and physical "edge" each time they step on the mat while supporting students to feel grounded and present.
Step off your mat and learn to fly! Aerial Yoga is a powerfully therapeutic practice that combines the strength and grace of traditional asana with the ease of gravity assisted stretching, all in the comfort of silks. Whether you are new to the mat, or looking to deepen your floor practice, aerial asana will strengthen the arms and core while opening the hips and heart. Inversions have been called the fountain of youth, and they help to decompress the spine. The pressure of the fabric on the body helps to drain and circulate the lymph fluid, while opening the connective tissue.
We require that students new to the practice take at least one Aerial Yoga Level 1 introductory class as prerequisite to the drop-in, in order to become used to the silks and specialty inversions. Class size is limited to 10 participants, so register early! At least 12 hours notice is required for cancellation of reservation without additional charge-- $20 non-refundable drop-in is charged for all absences and late cancellations.
Upcoming classes: