Vinyasa + Core - Intermediate/Advanced
This class is taught by: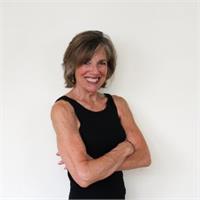 Describe yourself in three words: Balanced, passionate, optimistic.
Why do you teach Yoga? Because yoga teaches me.
What inspires you? My children, my work, and the first day of spring.
What's the scariest thing on your bucket list? Holding handstand in the middle of the room.
Where did you get your training/certifications? ISHTA at Thrive:RYT 500;RYT200,Prenatal; Thai Yoga Massage Level 1
Felicia, 500RYT, has been teaching at Thrive since 2009. Her positive energy and direct instruction inspire students to pay close attention to alignment while keeping a light-hearted and spirited way. Felicia's classes focus on balancing a strong physical practice with mental well-being and fun!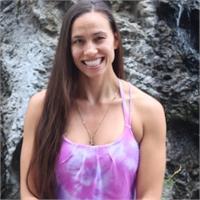 Describe yourself in three words: fiery, happy, passionate
Why do you teach Yoga? It only seems right. How could I keep this amazing gift all to myself?
Something surprising about you: I was a Hammer Thrower at the University of Maryland
What inspires you? Progress. It's not always a straight line: sometimes we even take a few steps backwards first. That's ok because there is never an end to yoga- it's a journey. There's always a next step, always a deeper variation- whether that's physical or just a change in perspective.
Where did you get your training/certifications? Thrive Yoga 200YTT
Jessie found her way to her mat after years of athletics. While she was initially drawn to the challenging asana practice, what she found was so much more than a sport replacement! Jessie loves a sweaty asana practice but equally enjoys a sweet meditation practice. Jessie looks forward to sharing her zest with others, while encouraging them to listen to their bodies and stay present.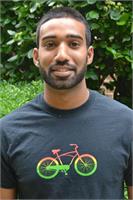 Describe yourself in three words:
Fiery, passionate, strong, easygoing, chill, calm, compassionate, empathetic
Why do you teach Yoga?
I've learned a lot from being a student, but I'm eager to learn so much more while teaching.
Something surprising about you:
I enjoy going out to eat at restaurants by myself lol
What inspires you?
Observing the change in other people's faces, body language and tone of voice when they speak about their passions. It's wonderful to witness and it inspires me to be true to myself.
What's the scariest thing on your bucket list?
Not too sure I even have a bucket list.. but if I had to choose, it would be to wrestle with a lion.
Training/Certifications:
I'm a Certified Strength and Conditioning Specialist through the NSCA. I'm currently finishing my 200-hour YTT through Thrive Yoga.
Peter first came to yoga as a way to stretch his body after sports and weight lifting, but quickly noticed his connection with yoga went much deeper than "just stretching". Peter uses yoga as a moving meditation to bring more awareness to his breath and his sense of self. He enjoys everything, from a hot and fiery class, to a deeply meditative and restorative class. Peter uses his physical therapy and personal training background to focus on integrating specific muscles which aid in alignment and stability in each posture. Peter believes yoga is for everyone, and creates a space for students to find what works best for their own bodies.
Vinyasa Flow Yoga and targeted core strengthening sets combine to stretch, build and maintain a variety of muscles from your pelvis to your shoulders. Using dynamic movement, breathing and repetitions, this class is perfect for students practicing arm balances and for cross training. Expect unique sequences and a wide range of music.
Sweat Factor: 9
Chill Factor: 5
Intermediate class best suited for experienced students with a regular practice; comfortable with sequenced sets and interested in integrating various yoga techniques for a deeper experience.
Upcoming classes: