Hatha Yoga - Beginner
This class is taught by: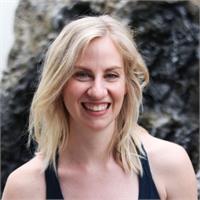 Describe yourself in three words:
Joyful, compassionate, driven
Why do you teach Yoga? Practicing yoga myself makes me feel alive...teaching yoga and watching parts inside my student awaken makes my whole world light up.
What inspires you? The children that I work with who have special needs.
What's the scariest thing on your bucket list? Heli-Skiing
Where did you get your training/certifications? I received my 200 hour training at Sol Yoga in Frederick, and my 300 hour training here at Thrive. In addition, I received my Aerial training with Vaihyasa Aerial Yoga and have a variety of certifications including but not limited to: Yoga for the Special Child, Mindful Yoga Therapy, and Childlight Yoga. I have additional certifications in Trauma Sensitive Care, crisis response, and education.
Bio: Christine enjoys teaching flow classes for beginners through advanced, leading her class from a healthy power sweat to restorative poses. Christine's classes incorporate body and mind exercise while focusing on alignment, strength, and breath– all to lead towards greater flexibility and strength both in yoga poses and in life. Christine strives to take her students to their emotional and physical "edge" each time they step on the mat while supporting students to feel grounded and present.
A well-rounded yoga class exploring postures (asanas), breathing exercises (pranayama), and energy balance. Classes include training in: pose alignment; relaxation techniques; concentration, meditation. Expect to improve your overall sense of well-being.
Sweat Factor: 7
Chill Factor: 7
Upcoming classes:
Sign Up

Sun

Dec 17 11:00 am - 12:20 pm

with

Christine

Dance




Sign Up

Sun

Jan 07 11:00 am - 12:20 pm

with

Christine

Dance




Sign Up

Sun

Jan 14 11:00 am - 12:20 pm

with

Christine

Dance




Sign Up

Sun

Jan 21 11:00 am - 12:20 pm

with

Christine

Dance




Sign Up

Sun

Jan 28 11:00 am - 12:20 pm

with

Christine

Dance




Sign Up

Sun

Feb 04 11:00 am - 12:20 pm

with

Christine

Dance




Sun

Feb 11 11:00 am - 12:20 pm

with

Christine

Dance




Sun

Feb 18 11:00 am - 12:20 pm

with

Christine

Dance




Sun

Feb 25 11:00 am - 12:20 pm

with

Christine

Dance




Sun

Mar 04 11:00 am - 12:20 pm

with

Christine

Dance




Sun

Mar 11 11:00 am - 12:20 pm

with

Christine

Dance




Sun

Mar 18 11:00 am - 12:20 pm

with

Christine

Dance




Sun

Mar 25 11:00 am - 12:20 pm

with

Christine

Dance




Sun

Apr 01 11:00 am - 12:20 pm

with

Christine

Dance




Sun

Apr 08 11:00 am - 12:20 pm

with

Christine

Dance